NDIS Workbook
Psychosocial Providers Core Module NDIS Readiness Workbook
The WAAMH NDIS Project Team has updated a key resource, the Core Module Readiness Workbook, to align with version 4 of the NDIS Practice Standards and Quality Indicators released November 2021. For each indicator you will find an interpretation, examples of evidence that could be provided to demonstrate the service meets the indicator, and examples of what that might look like in practice. Space is provided to record existing evidence, identify gaps, and generate quality activity ideas. This resource also includes mapping to the National Standards for Mental Health Services (NSMHS) to aid in identifying existing evidence. The document is interactive and has editable text boxes to complete your gap analysis that can then be copied to the online renewal form when the time comes. Contact the team by emailing ready4qsc@waamh.org.au to receive your digital or hardcopy.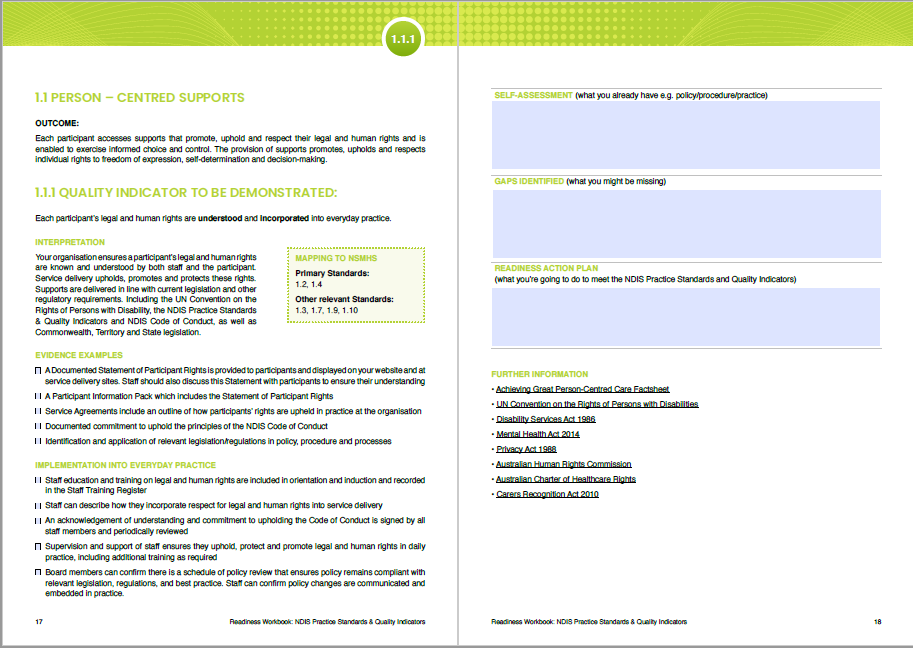 You can download and use the Core Module Gap Analysis and Action Planner Tool which includes all of the Version 4 Practice Standard and Quality Indicator updates. This tool is an Excel Workbook that has been developed to be used alongside the Core Module Workbook.
Download a description of changes to the NDIS practice standards November 2021
Why did we create a Workbook?
WAAMH undertook a consultation process with registered NDIS service providers operating in the psychosocial disability sector. During this process we repeatedly heard that there was a need for a resource specific for psychosocial disability service providers, to build capacity to achieve compliance with the NDIS Commission requirements.
We have developed this workbook to make the process easier and more relatable to existing knowledge. It has been developed employing the principles (and language) of recovery-oriented, trauma-informed care. We hope that by using this approach, this workbook is a useable resource that relates to the day-to-day operations of service delivery.
Download Core Module Gap Analysis and Action Planner
Rationale for Mapping
During the consultation process it was found that numerous providers of psychosocial supports were mental health providers and were already accredited against the National Standards for Mental Health Services (NSMHS). This means that these providers already have a large pool of evidence of quality that can be drawn on to meet the NDIS Practice Standards.
Those who are unfamiliar with the NSMHS will still benefit from using this Readiness Workbook to prepare for their NDIS registration renewal. A summary table showing how the two standards match up has been incorporated into the Appendix.
---
Join our mailing list
Keep up to date on the latest news, tips and events from the WAAMH NDIS QSC Team
---
Proudly supported by:

---