Workplace Wellbeing
Mental health and wellbeing at work is increasingly recognised as an important part of an employer's health and safety responsibilities. It also helps enormously if we are looking after our own mental health as employees.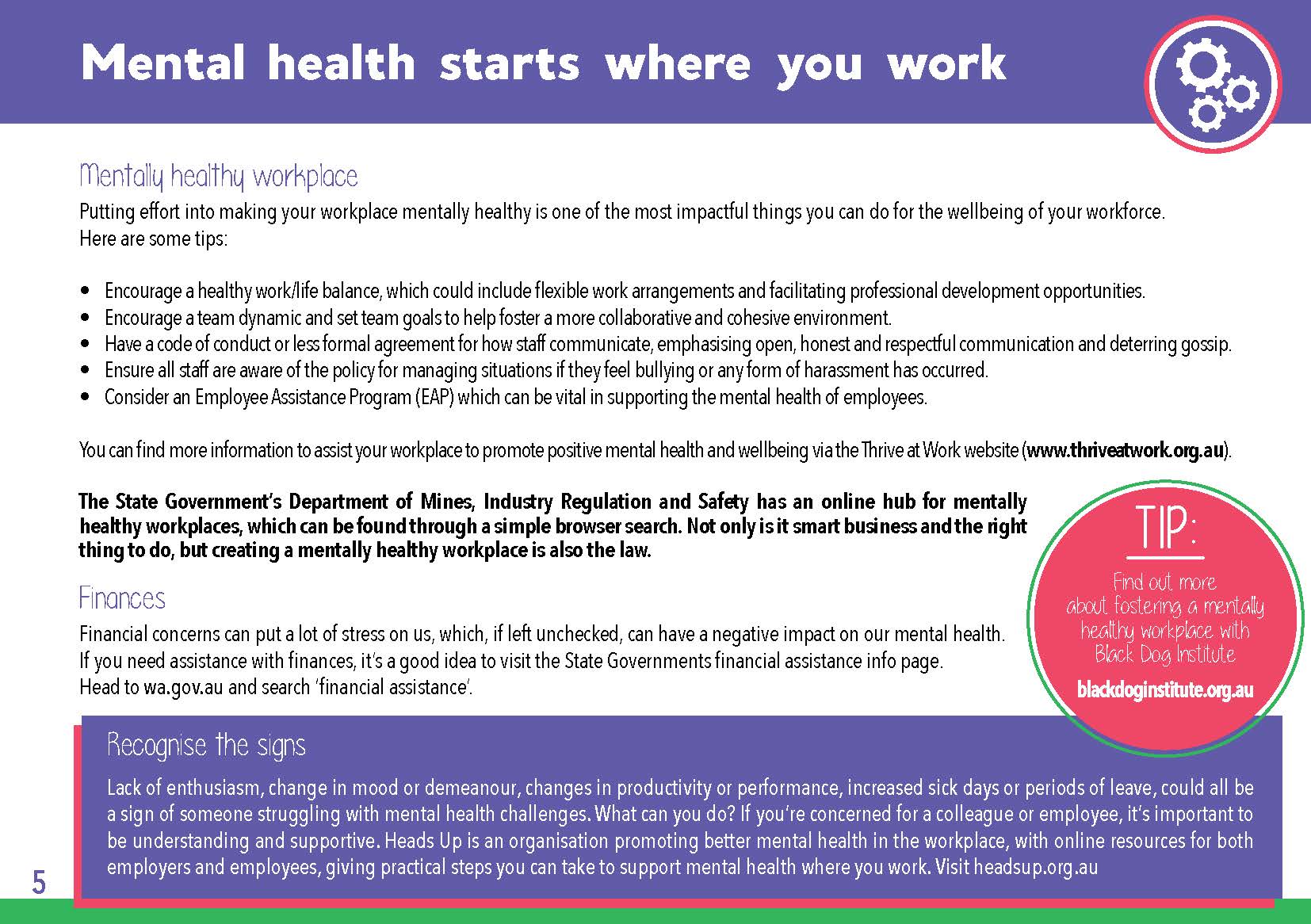 A mentally healthy workplace increases productivity and improves retention. Happy and settled staff who develop positive connections with their managers become loyal employees, are more likely to stay in their roles longer and make effective contributions to their work teams.
Research shows companies which don't recognise or adopt best practice when it comes to improving corporate culture, record a higher level of sick leave and attrition, lower productivity and can be open to bullying and harassment lawsuits.
To create a healthy, harmonious and productive workplace, consider a training course in mental health for staff to improve their overall general wellbeing.

Creating a mentally healthy workplace!
Report by Beyond Blue, National Mental Health Commission and The Mentally Healthy Workplace Alliance: Creating a mentally healthy workplace: Return on investment analysis


Barriers to employment of young people with mental illness
Orygen Youth Health Research Centre has released a landmark report examining a number of the barriers to the participation in employment and education of young people with mental illness in Australia. Tell Them They're Dreaming: Work, Education and Young People with Mental Illness in Australia.


Discover how to implement the Individual Placement and Support (IPS) employment program in your Mental Heath Service, or find out where existing places are that use IPS to help you find a job.
Discover 10 tips for staying mentally healthy at work. Print off your Mentally Healthy in the Workplace poster and promote it at your work. Contact us for a free A3 copy of the corporate poster to promote health and wellbeing in your workplace. This poster was developed and designed by WAAMH in conjunction with Brain Ambulance.
Preventing mental disorders in the workplace
Find useful guidelines here for organisations on the prevention of mental disorders in the workplace. Guidelines and the workplace mental health website were developed by Dr Nicola Reavley and her research team at The University of Melbourne.
Returning to work after a mental disorder
The return to work guidelines are designed to help anyone involved in the process of returning to work after absence due to depression, an anxiety disorder or related mental health problem.
Workplace advice, programs and resources
SANE Australia - Mindful Employer
Department of Mines, Industry, Regulation and Safety - http://dmp.wa.gov.au/Safety/Mentally-healthy-workplaces-25121
The Mentally Healthy Workplace Alliance -Take care of business
Thrive - http://ww.thriveatwork.org.au
Black Dog Institute - https://www.blackdoginstitute.org.au/education-training
Beyond Blue - Heads Up
Mental Health Response Box for the workplace or community group - https://waamh.org.au/mental-health-promotion/workplace-wellbeing/mental-health-response-box
Diabetes WA - Get on Track Challenge for workplaces
Diabetes WA - My Healthy Balance for workplaces
For activities and suggestions to engage, educate and create awareness about mental health and wellbeing with employees in your workplace, during Mental Heath Week go to: http://mhw.waamh.org.au/get-involved/workplace
---