Thank you to everyone who joined us at the third biennial WA Mental Health Conference at the Hyatt Perth on 19-20 November 2019.
What an enriching, educational and entertaining two-day experience it was, with around 500 people from around Australia!

Photos from the event have now been posted on our Facebook page - so feel free to tag yourself and share: https://www.facebook.com/WAMentalHealth/
You Tube videos of main plenary sessions

In the coming week, we will have uploaded all the video streams of the Main Plenary sessions so you can watch the sessions you missed or re-live your favourite moments. Footage will be available via our You Tube Channel: https://www.youtube.com/channel/UCSvT0EZNi6ucpFhLEVRwWVg?view_as=subscriber
Conference App
Access to the Whova Conference App remains valid for up to 6 months post event, so make use of the technology and opportunity to continue to share your learnings, highlights, comments and networking post conference. It was great that 64% of all delegates used the App and found it enhanced their event experience.
We will also upload some data there too over coming weeks to keep you in the loop.

Live discussion
Keep the conversation going on Twitter, by following and tagging @TheWAAMH and using #strongertogether

Avivo Wellbeing Room
Thank you to Gold Sponsor Avivo for your awesome Wellbeing Room. We were aware some of the topics of discussion were of a serious nature and therefore, the trained staff from community mental health service, Avivo came to the rescue with their very cool and very supportive, chilled out, relaxing zone.
About the Conference
The WA Mental Health Conference 2019 will be hosted by the Western Australian Association for Mental Health, with the support of the WA Mental Health Commission.
The conference aims to develop, strengthen and support WA's mental health sector, provide collaboration opportunities for mental health workers and people with lived experience, and share resources, perspectives and best practice, so together, we can move forward in the same direction with clear actions and solutions in mind.
The program's four core streams sessions will explore the concept of Strengthening our community by taking a holistic look at mental health, sharing ideas, and learning from both each other and industry leaders:
Live, learn, work, and play - Addressing social determinants and population-based challenges.
Recovery and wellbeing - Specialised presentations focussed on sub-populations and their needs.
Balancing the system - Focussed on keeping people well and returning to better health.
Service integration - Exploring complex sector issues and systemic responses.
If it takes a village to raise a child, then it takes a whole of community approach to tackle mental health challenges.
Through connections and conversations at the State's premier mental health conference, we hope to weave a path through WA's mental health system to ensure it can offer the right support, at the right time, in the right place, to keep people well in their own local communities.
The conference appeals to a diverse range of delegates including people with lived experience as a consumer, carer or family member; professionals from primary health, private sector and non-government organisation services; funding bodies; policy makers; mental health educators and advocates; and people whose work relates to mental health, human resources and/or occupational health and safety.
There are approximately 450 people from across Western Australia and interstate attending this year's conference.

Download flyer.

Painting in the conference artwork is courtesy of lived experience artist Liv Robinson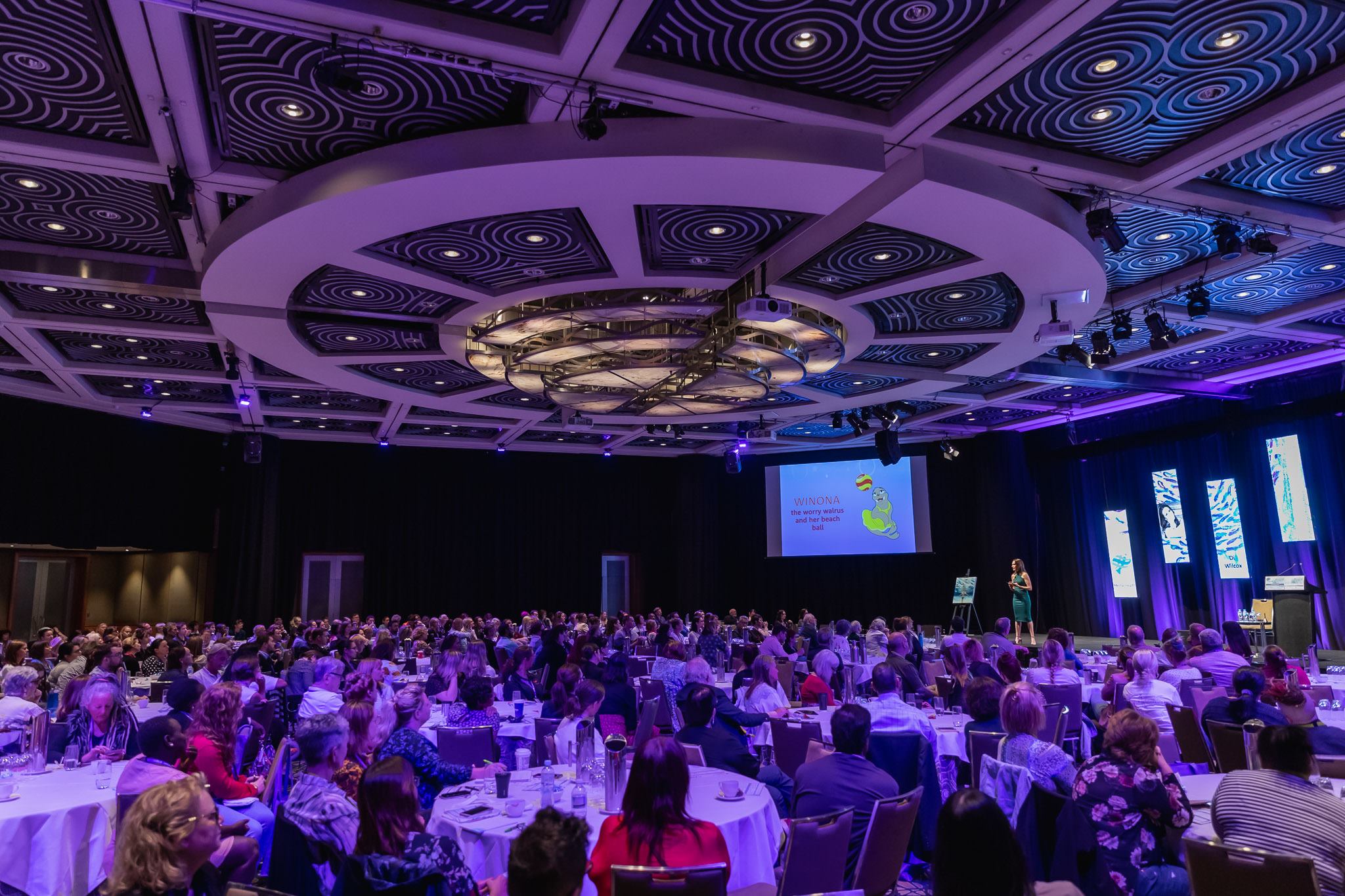 ---