Resources
WAAMH has developed a range of posters, brochures and postcards promoting mentally healthy classrooms, teachers and students, and offering tips.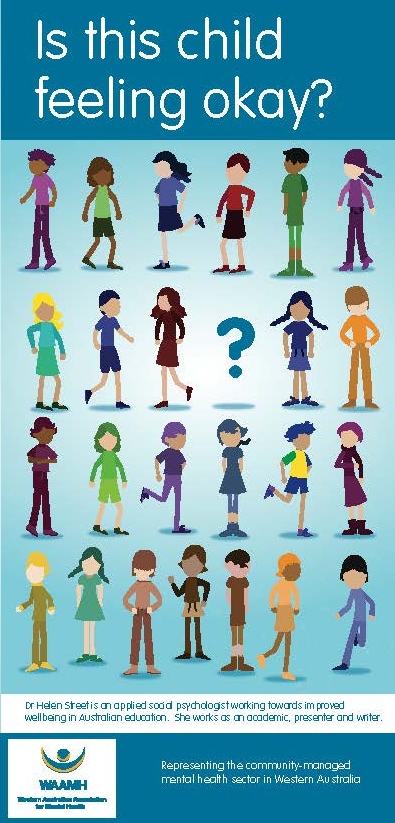 10 Tips to stay mentally healthy A3
10 Tips to stay mentally healthy at work A3
Is my child feeling ok? Information for parents concerned about their child's wellbeing
Is this child feeling ok? Information for primary school teachers concerned about their student's wellbeing
The Flourishing Class A guide for teachers to help their students flourish in the classroom, and beyond
Passion for learning A guide for parents to help their children develop a love of learning at home, at school and beyond

Our mental health resources for youth and teachers are written in collaboration with Dr Helen Street, an applied social psychologist and stress expert, who has been working towards improved wellbeing in Australian education since 1999. She works as an academic, presenter and author and her work has been met with international acclaim.
Helen is co-chair for Positive Schools (www.positiveschools.com.au) and runs mental health and wellbeing conferences for teachers, providing an opportunity to learn up-to-date knowledge, ideas and strategies about positive education and wellbeing. Helen also runs The Positive Times - a free online news service for all educators to access at www.positivetimes.com.au

For Mental Health Week resources, go to: http://mhw.waamh.org.au
Being the peak body for mental health, WAAMH also endorses relevant materials developed by our members.
These resources are from Mentally Healthy WA:
Youth Booklet
Classroom Energisers
High School Fact sheet
Middle School Fact sheet
Primary School Fact sheet
Act-Belong-Commit Mood Diary
Act-Belong-Commit Chatterbox
---