WAAMH's Involvement
Since 2013, WAAMH has participated in the Looking Forward Project as a member of the service provider stakeholder group. As part of the project, WAAMH has embarked on a journey with Aboriginal Elders and the project team to build trust and relationships, and create real and lasting changes that aim to have a positive impact on Nyoongar peoples' access to and experiences with mental health services.
WAAMH's participation has involved partnering with Aboriginal Elders Uncle Charlie Kickett and Auntie Helen Kickett and meeting together on a monthly basis, usually sitting in a circle for a yarn, to build relationships and learn about Nyoongar culture. The Looking Forward Project team has supported WAAMH in this process. At the meetings the Elders welcome the team to Nyoongar boodja. WAAMH listen to the Elders and project team tell stories about who they are, where they are from, and what it means to be Nyoongar, and the team reflect on this.
One of the WAAMH team members commented, "the project has involved sitting and listening with our two ears, our minds, our bodies and our hearts. Reading about what it means to be Nyoongar can provide us with only a limited understanding. It is through sitting and listening that we can experience what a Nyoongar world view means, and begin to experience a deeper connection to Nyoongar people and boodja," she said.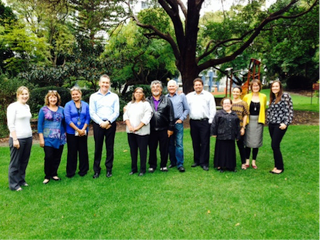 Photo: (From left) Tanya Jones, Ann Elliott, Rosemary Walley, Rod Astbury, Aunty Helen Kickett, Uncle Charlie Kickett, Dr Michael Wright, Danny Ford, Katrina Bercov, Chelsea McKinney, Coralie Flatters, Brooke Johns. Photo by Marg O'Connell.
Learn more:
Photos from the WAAMH team's excursion 'on country' with their elders are pictured in the slide show below:
---