Key Learnings
The process of reflection and self-discovery by participants is a core component of the Looking Forward Project. Throughout the project, the WAAMH team contemplated their involvement in the process and recorded their reflections on the experience. This enabled the exploration of feelings, beliefs and knowledge, and increased the team's confidence and competence in working with the Elders.
The team's key learnings included having a much fuller understanding of how deep listening and learning is fundamental to Nyoongar engagement. Through the development of a deeper understanding of Nyoongar culture, history, and worldview, including the significance of Welcome to Country, a greater acceptance and enjoyment of non-linear concepts of time and circular discussions developed, the sharing of personal experiences and feelings happened more readily, and the team questioned and reflected. As a result, trust was secured and a relationship created with the Elders. This was the most important outcome of the process and represented a significant step towards the cultural change required within WAAMH to be both responsive to Nyoongar peoples and communities, and to conciliation with Nyoongar peoples.
It is important to note that the project has not just been a learning experience for the WAAMH team. The Elders have also learned in this process. One of the Elders acknowledged this in a recent meeting. "Coming here has been a big help to me, in my life. I thought if I came to these meetings it would help me to be out in the community and help someone out in our community. Since we have been coming we have done this a few times. It has helped me a lot even with my own family," he said.
It was also reflected by one of the Elders that by being involved with WAAMH, and in this project, they have also had significant learnings that has made their own work in mental health more effective. "Our work became more effective. That is the good thing about it. This changed us for the good. The little things we picked up and learnt from each other helped us," she said.
As part of this reflection process WAAMH has authored a journal article on the team's experiences with the project. The article focuses on the benefits and challenges of being involved in the project and the key learning's of WAAMH staff and the Elders. A copy of the article can be downloaded here.
This article will be published in the New Community journal.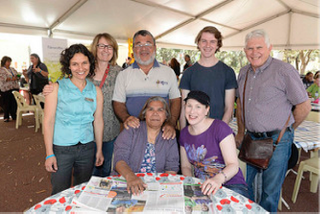 Mental Health Week 2015. Photo: (From left) Chelsea McKinney, Coralie Flatters, Charlie Kickett, Tim Lorian, Dr Michael Wright, Helen Kickett, Tanya Jones.
Learn more:
---