Engaging with Aboriginal Peoples
What is engagement?
Engagement is not 'consultation'. It is an ongoing process or conversation that builds trust and relationships and is seen as an interaction between groups of people working towards shared goals. There needs to be honesty about the nature of the engagement, opportunities for a diverse range of opinions to be expressed, time for deliberation, and for the people involved to actually have influence over how they will participate and the outcomes determined (Hunt, 2013, p.5).
Diversity amongst Aboriginal peoples
It needs to be remembered that the cultural experiences and protocols of individual Aboriginal people and communities will differ. Each Aboriginal community is different, with different customs and protocols, systems of organisation, languages, and relationships to each other. There is no single Aboriginal culture – Aboriginal society is very diverse. As such, the interests of communities and the effectiveness of policies, programs and services will vary. Aboriginal culture is dynamic and continuously evolving (NDS WA, p.6).
The AIATSIS map of Indigenous Australia below is a visual representation of this diversity. Click here to access the online interactive version of this map.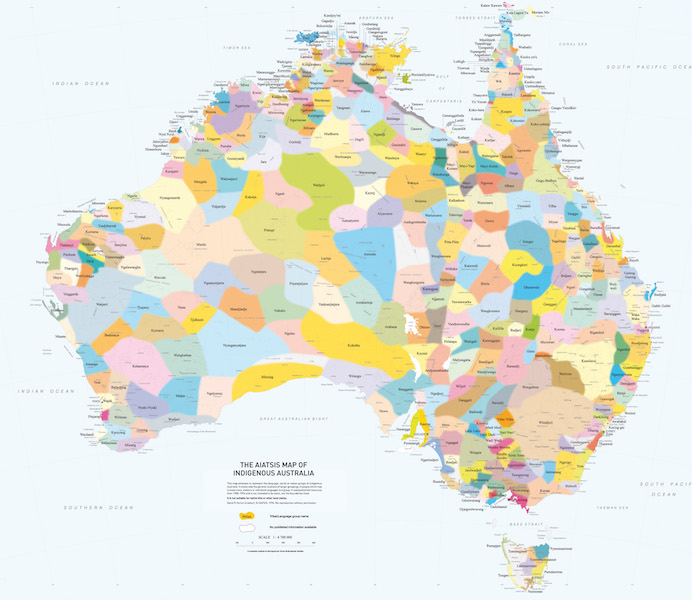 This map attempts to represent the language, social or nation groups of Aboriginal Australia. It shows only the general locations of larger groupings of people which may include clans, dialects or individual languages in a group. It used published resources from 1988-1994 and is not intended to be exact, nor the boundaries fixed. It is not suitable for native title or other land claims. David R Horton (creator), © Aboriginal Studies Press, AIATSIS, 1996. No reproduction without permission. To purchase a print version visit: www.aiatsis.ashop.com.au/.
Key considerations
A wealth of resources are available online to guide mental health practitioners and service providers in their engagement with Aboriginal peoples. Some of the key points raised in the resources that need to be taken into consideration are presented in the graphic below: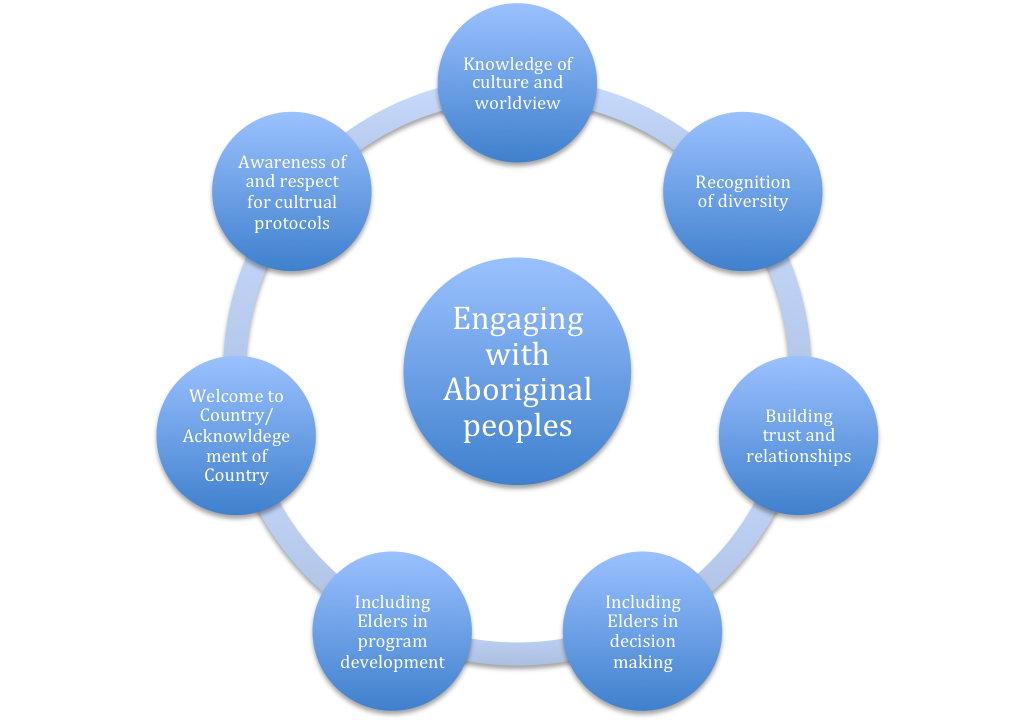 Mental health practitioners and service providers should also be aware of the practice of 'code switching' by Aboriginal people. This is switching from Aboriginal cultural ways at home to wadjella ways when interacting with other people. Watch this short clip, Code switching: a communication survival skill for an introduction to this extraordinary skill.
Learn more:
---